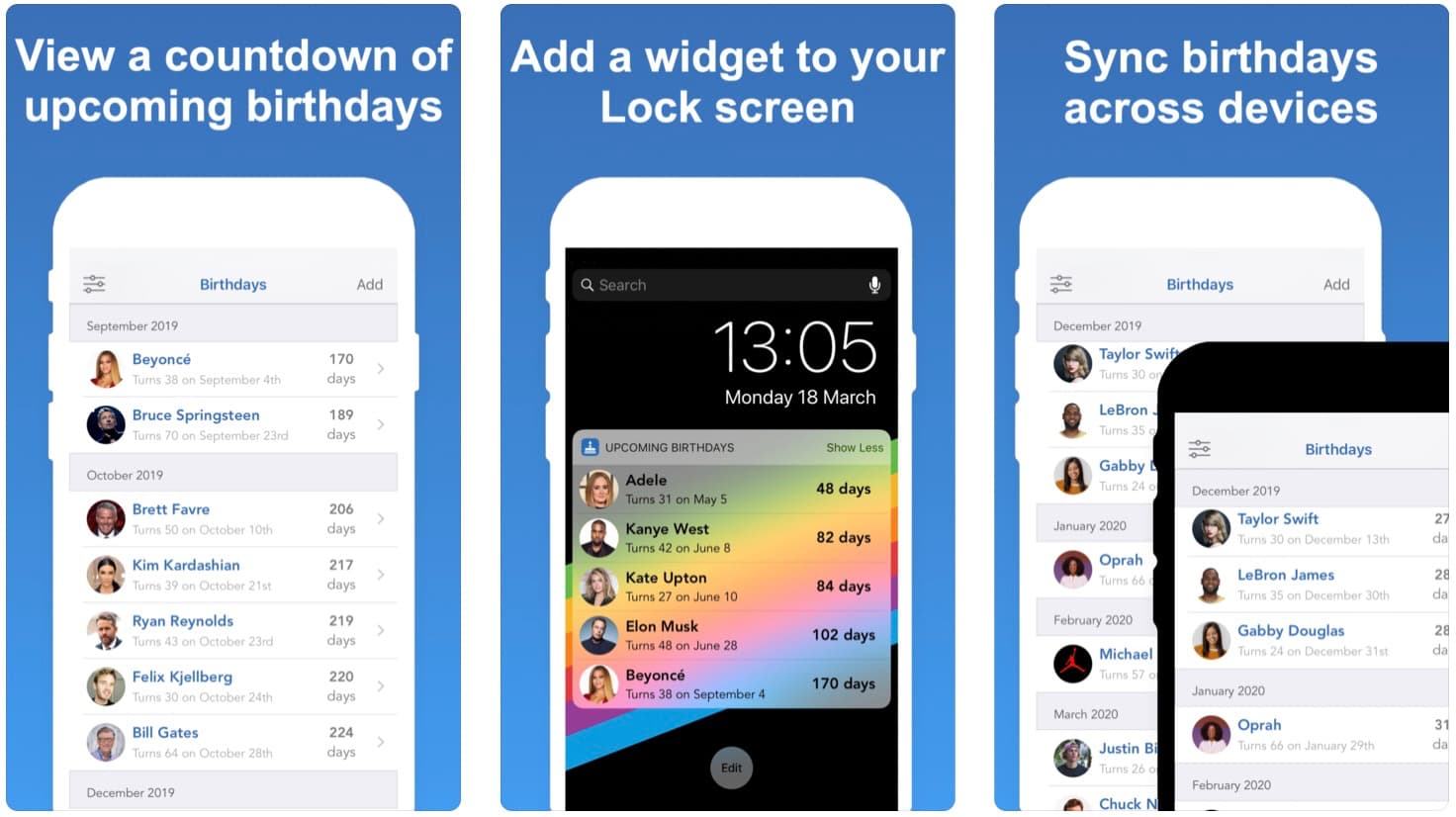 Never forget a birthday again with Birthday Reminder, a simple and elegant app that helps you keep track and view a countdown of upcoming birthdays.
9 reasons to use Birthday Reminder
Easily import birthdays from existing contacts
View a countdown of upcoming birthdays
View the name, photo, and age of your contacts at a glance
Customize the day and time for birthday notifications
Add a handy widget to your Today screen
Keep birthdays in sync across devices
A clean and elegant design
A custom ringtone to alert you of upcoming birthdays
Highly reviewed with an average of 4.5 stars
Download it now and give it a try, or read on for more details…
We love feedback
If you like this app, please consider taking a minute to rate it in the App Store. If you don't like the app, please contact us and let us know how we can make it better.
Frequently Asked Questions
I bought the Plus version but I still see ads, or all features aren't unlocked. What can I do?
Open the app and go to the app's settings. Tap on the Upgrade (remove Ads) tab at the top. Tap on the Restore Purchases link.
Assuming you did purchase the Pro version to begin with, this will unlock all Pro features.
---
I downloaded the app on my other device but I can't unlock the Plus version. What should I do?
1/ Make sure that both your devices are using the same Apple ID for App Store purchases.
2/ On the other device, delete the app and install it again, then go back to the Birthday Reminder Plus screen, and hit the Restore Purchase button. It should now work.
---
How to import birthdays from contacts?
When you first install the app, it asks for access to your contacts. If you said yes, the app will automatically import birthdays from your contacts. Obviously, for this to work, you must have added birthdays for your contacts yourself at some point in the past.
If for some reason you didn't allow the app access to your contacts after launching it the first time, you can change that by going to Settings > Privacy > Contacts, and make sure Birthdays is enabled.
---
How do I enable sync across devices?
First, make sure the Plus version of Birthday Reminder is enabled on both your devices. To do that, go to the settings inside the app, and verify it says "Plus Version Active" at the top.
If the Plus version is not active on one of the devices, make sure to tap the Restore Purchases link on the Birthday Reminder Plus screen, as seen below. This link will make sure to unlock the Plus version on that device as well.
Then on the main device (the one containing all birthdays), enable iCloud Sync in the app's settings, and your list of birthdays will be automatically backed up to iCloud. Close the app.
Finally, enable iCloud Sync on your new iPhone or iPad, and the app will import all your birthdays and keep them in sync across devices. Depending on how many birthdays you have, it may take a few minutes. If you experience issues, closing and opening the app again typically helps.
---
There is a red badge always showing on the app icon. How can I get rid of it?
1. Open Birthday Reminder.
2. Go to the settings inside the app.
3. Turn off the "Show today's birthdays" button.
---
Can I use Birthday Reminder for more than just birthdays?
Sure! Although Birthday Reminder was designed to keep track of birthdays, it can also be used to keep track of other life events such as anniversaries, holidays, and more.
Simply create a new entry and apply the appropriate label to it. For example, instead of adding a name to the birthday you are creating, you can call it "Mary & Tom's anniversary," or "Grayson's graduation," etc…
But really, if you want to track other life events, you should really check out our free app called Event Countdown. Chances are, it will do exactly what you're looking for.
---
Can Birthday Reminder import birthdays from Facebook or any other service or platform?
Sorry, but it cannot do that at this time. The app can only import contacts from your iPhone or iPad Contacts app.
---
All my birthdays are off by one day. What can I do?
A previous version of the app had a bug that would cause birthdays that were manually input into the app to be offset by one day. This would happen only if the iPhone had been to a different time zone. This would not happen to birthdays that were imported from your address book.
A fix has been issued in the App Store but unfortunately, this fix only prevents new birthday additions from suffering from this bug, but all previously input birthdays are still subject to it.
The best solution is to manually delete each birthday card and recreate them one by one. You could also simply edit affected birthday cards, which should work but could be prone to more problems in the future (I don't believe it will, but it's still a good precaution to take).
I'm truly sorry about this bug. I know how annoying it is because it affected me too.
---
Question about Birthday Reminder?
Send me an email and I'll do my best to reply in a timely manner.